Flying Arts facilitator Claudia Husband travelled to the charming South Burnett region to explore eco-printing and dyeing with two groups of primary school students as part of Flying Arts Alliance's Small Schools Fund. The project allows schools with 50 or fewer students in regional and remote Queensland to apply for a bursary of up to $5000 per school year for curriculum linked projects. In this case, the schools learned about scientific principles through a practical, artistic application.

Claudia's workshop was titled "Extracting Colour from Plants". The schools were interested in a visual art workshop that combined art with science, drawing upon the concepts the students are learning in class. The focus of the two activities — eco printing on paper and indigo dye on fabric — explored chemical changes and how this relates to colour change, as well as an exploration of materials and the environment. Participants were shown a PowerPoint presentation at the beginning of the day to explain the concepts they were working with, and to explain how colour is extracted from plants using heat and water. Students were also taught about the differences between synthetic dyes and natural dyes, as well as some of the differences between pigments and dyes.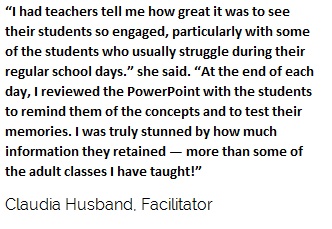 Students were asked to 'forage' for plant materials around the school grounds, and instructed on respectful foraging techniques and careful assessment of flowers and leaves. After being shown a demonstration on how to use the plants and paper to make an eco-print, the children then had the opportunity to design their own papers by laying flowers, plants and vegetable matter onto their paper. Students were encouraged to use the concepts of form and composition that they had been studying in art class with their teacher, Patricia, to develop their designs.
The bundles were placed into boiling pots of dye (one containing tea, one containing red cabbage) and left to boil for one hour. While the eco bundles were boiling, students were shown how to dye fabric with an indigo vat. They were taught why indigo is unique and different to the eco-printing (pigments versus dyes), and were shown that the fabric is green when it comes out of the bath, but turns blue when exposed to oxygen. A discussion was had about the gases and molecules in the air, and that the chemical bond between oxygen and indigo causes a colour change in the fabric! Students then had a chance to fold their own fabric and create patterns in indigo.
The eco bundles were unwrapped after one hour, and left to dry in the sun over lunchtime. The final part of the day involved painting solutions of iron and soda ash onto the eco-printed papers to observe colour changes that take place when metals and alkalis bond with the natural dyes. The papers were then cut up and made into books for the students to write and draw in!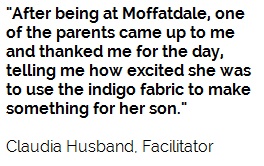 For Claudia, the main highlight was seeing how engaged the students became in the dye work, and how excited they were to have the chance to be making art all day. "I had teachers tell me how great it was to see their students so engaged, particularly with some of the students who usually struggle during their regular school days." she said. "At the end of each day, I reviewed the PowerPoint with the students to remind them of the concepts and to test their memories. I was truly stunned by how much information they retained — more than some of the adult classes I have taught!"
Claudia hopes that her time at Cloyna, Windera and Moffatdale has been beneficial for the students. The students don't get a huge amount of time for visual art, and they do not often get opportunities to have artists visiting their schools. The visit was even mentioned in the local paper! Claudia and the school staff were amazed at how engaged the students all were. Some students who were shy and reluctant to partake at the beginning of the workshops were by the end fully immersed in the activities. The students' art teacher has already arranged for the students to have their work from this week's classes on display at the Wondai Regional Art Gallery , which Claudia describes as "An awesome opportunity for any school student!"
"The South Burnett region is a beautiful part of the state, and all of the small towns I was involved in were great to be in," said Claudia. "I got a real sense of community in the area, where everyone knows everyone, and people look out for one another. On my first night I went to a local curry place in town for a meal and dropped some cash from my purse. The next day the restaurant owner came up to me in the IGA, recognised me and gave me my money back!"
---
The Small Schools Fund allows schools with 50 or less students in regional and remote Queensland to apply for funds up to $5000 per school year for curriculum linked projects (inclusive of facilitator fees, travel and accommodation). This opportunity allows schools to work collaboratively with an experienced artist to plan and deliver a visual arts incursion (workshop/residency) of your selection to create an arts rich experience for students and the wider school community.
Interested in reading the Lesson Plan for this workshop and others?  Head to our Resources page on the website.
---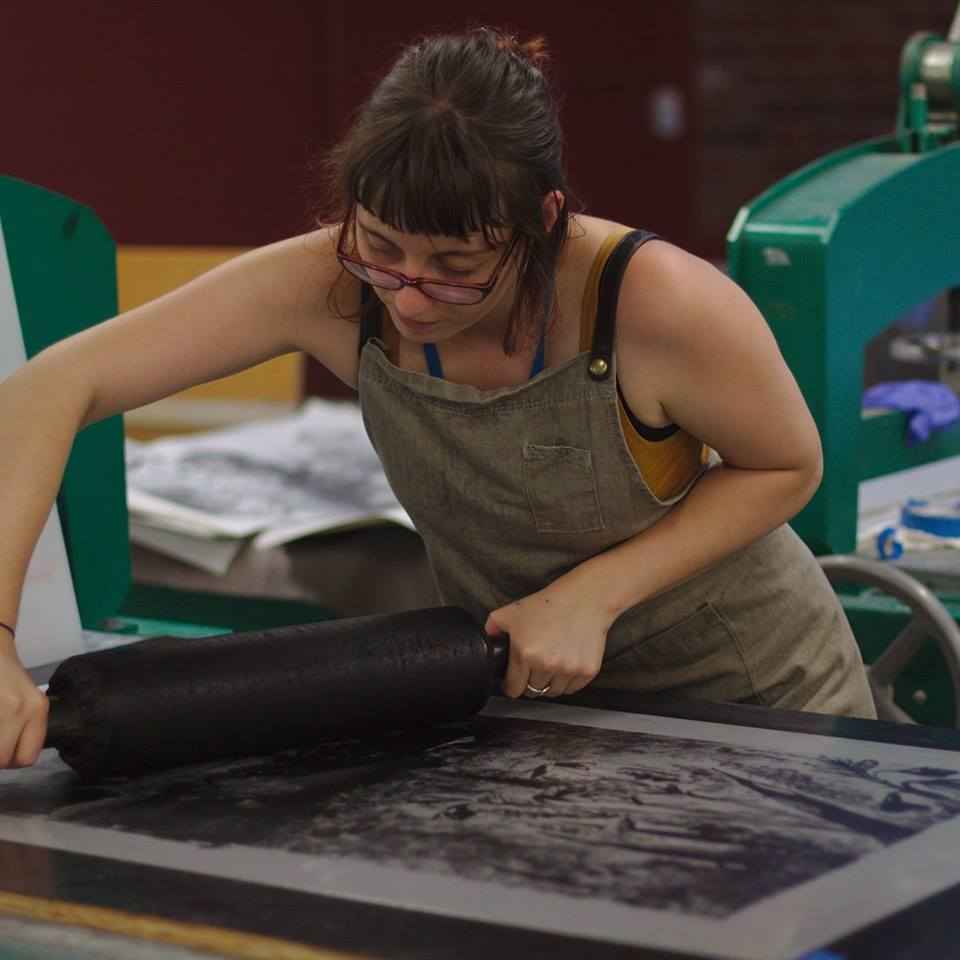 Claudia Husband is a practicing visual artist trained in printmaking in both Australia and the United States, currently residing in Brisbane, Australia. Claudia completed a Bachelor of Fine Art with the Queensland College of Art in 2012, and attended the Tamarind Institute in Albuquerque, USA to complete a summer workshop in aluminium plate lithography. Her work has been exhibited in Australia and America; and she currently has work in collections at the State Library of Queensland, Griffith Artworks, QCA Printmaking Department, Northern Prints Gallery (Duluth, USA), The Skopelos Foundation for the Arts (Greece), and private collections in the UK, USA, South Africa and Australia. Claudia is also co-director of Grey Hand Press, a publishing studio based in Brisbane.
Claudia utilises the manipulation of printmaking and drawing mediums through a detailed exploration of material and mark-making in order to reflect her direct responses to her environment. This is explored through a portfolio of imagery ranging from expressive landscapes and portraits, to macro-vision images of surface texture and detail. She works primarily in the printmaking medium of lithography, whose direct image-making process allows not only for a more intimate rapport between hand and surface, but also a great spontaneity in the way a drawing can be produced.