Flying Arts Facilitator Pamela Denise reflects on her trip to Builyan in the Gladstone Region last month when she ran a HASS and Visual Arts cross-curriculum incursion at Builyan State School.
This project was a part of Flying Arts Alliance's Small Schools Fund, which allows schools with 50 or fewer students in regional and remote Queensland to apply for a bursary of up to $5000 per school year for curriculum linked projects. In this case, students learned about their local community, industries and beautiful landscape through constructing a narrative-based mosaic.
---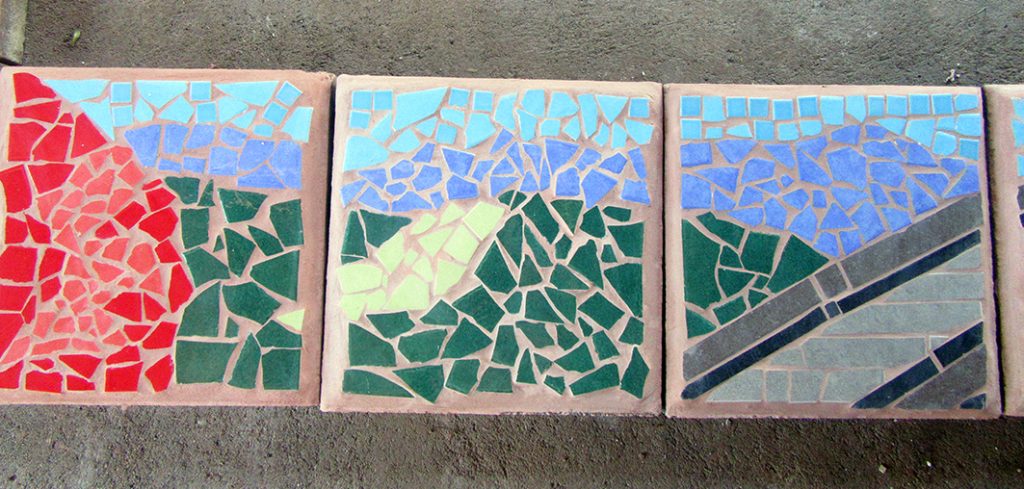 "Builyan is a small locality in the Boyne Valley approximately 480km north of Brisbane. There are 6 students at the Builyan State School, which was established in 1922.
You can see that ordinarily, this is a green and gold valley. Big trees, meandering creeks, fenced paddocks in good order, well-cared-for country houses and sheds, hills covered with bush. When I visited, the land was suffering terribly from drought, you can see signs of the bush fires last year in the hills.
I facilitated a mosaic workshop where the participants and I constructed a mosaic narrative on 22 concrete pavers (400mm x 400mm). The mosaic pavers will be a feature of a new ANZAC Memorial installed in the school grounds at the entrance.
The children and participating adults had a thorough experience of the layout of tiles and tiling styles. How to stick them down correctly and effectively with tile adhesive, levelling and for some, grouting up. The design was created after consultation with a respected grandmother and a staff member from the school."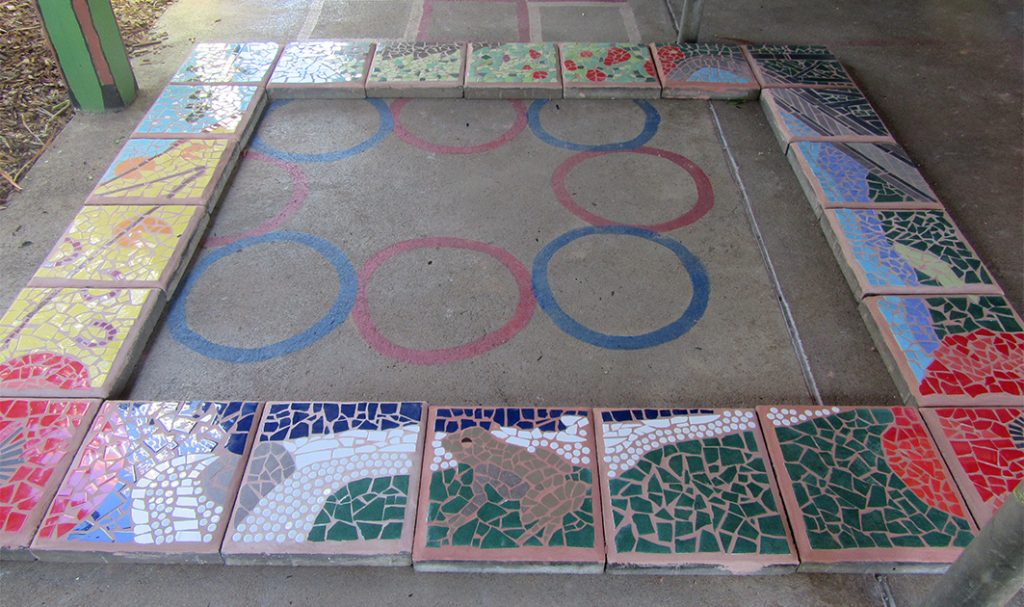 "The design based on features of the Builyan and greater Boyne Valley, including the now decommissioned timber railway bridge nearby that was the longest timber railway bridge in Qld, a stockwhip flicking through orange cattle tracks and purple horse shoe prints against a golden background stand for the local Cattle Producers and stockmen.
In the work, the endangered Kroombit Tinker frog sits beside a rushing creek down a sheltered rainforest gully, depicting the importance of the natural environment and conservation issues in contrast to the agricultural landscape. The view of Many Peaks is featured on one side with an apple green clearing seen in the distance hills showing an isolated farm. The edge of a silver sawmill blade with a hoop pine against a star-studded blue sky refers to the early days of timber getting, with the hoop pine being the principal tree type harvested. Complimented with two giant poppy heads and a field of poppies that signify the war remembrance."
On Day 1, students were introduced to mosaics through a short PowerPoint presentation before a safety demonstration on how to use the tools. Before long, students were taking ownership of the process by experimenting with layouts. The remainder of the first day was spent tweaking the layout of the tiles on the pavers with the help of staff and community members, prepping the designs for gluing.
Day 2 was off to a fast pace with Pamela facilitating one-on-one coaching sessions to teach students to fix the tiles onto their pavers. Students were provided assistance with the process and conversations were facilitated in-class about the importance of recognising local cultural and environmental histories.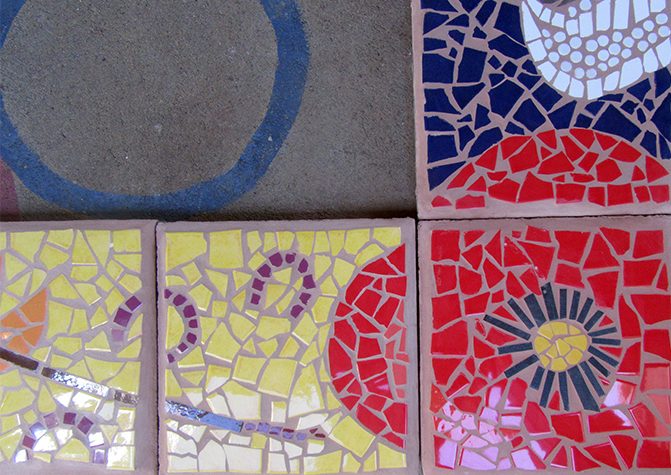 On Day 3, senior school students concluded the program by putting the finishing touches on the mosaic and sealing it with grout.
For Pamela, the main highlight was how positive and enthusiastic the students and school community were towards the program.
"We had a wonderful time! The children were obliging and willing to take on and practice new skills, always striving to improve. I enjoyed their enjoyment. The principal Kylie was terrific to work with, as well as the rest of the school support staff and teachers. It was an ambitious project with a strong artistic outcome that will be appreciated for a long time."
---
The Small Schools Fund allows schools with 50 or less students in regional and remote Queensland to apply for funds up to $5000 per school year for curriculum linked projects (inclusive of facilitator fees, travel and accommodation).
This opportunity allows schools to work collaboratively with an experienced artist to plan and deliver a visual arts incursion (workshop/residency) of your selection to create an arts rich experience for students and the wider school community.
The Lesson Plan for this workshop will be available in the near future. In the meantime, view other Small Schools Funded Project lesson plans on our Educators Resource page.
---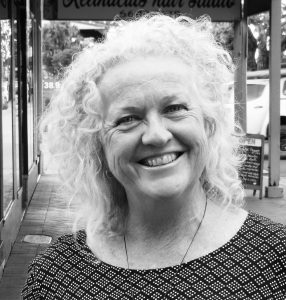 Pamela Denise is a multi-disciplined, professional visual artist and community development worker. Pamela has been devising and delivering community arts based projects and programs for local councils, state government departments, schools, NGO's, regional arts councils and Flying Arts Alliance since 1998.
Pamela regularly collaborates with people to explore art forms that reveal a sense of self, community and place. Primary outcomes are often a public art installation or an installation or performance at a festival. Typically murals, mosaic, or sculpture, though sometimes using other media such as lantern making, puppetry or using organic and found objects in giant weavings. She is passionate about encouraging arts practice and story telling, place making and public art.
---
Thanks to the incredibly successful Make Art Big in Small Schools campaign, Creative Partnerships Plus 1 funding and generous support from Gandel Philanthropy, Flying Arts has been able to dedicate over $40,000 to cross curriculum arts incursions in 2019. Consider supporting Flying Arts to provide more projects like this – all donations over $2 are tax deductible.