It was a dark and stormy night… the perfect setting for a gathering of artists and arts workers to eat, drink and be merry! 
Friday the 23rd of February saw the launch of Flying Arts' 2018 program, preview Iconic Queensland exhibition, and a chance for the year's touring team to meet and greet in the intimate setting of POP Gallery Woolloongabba. View images from the night and read the speeches below. Oh, and take a look at the program, too!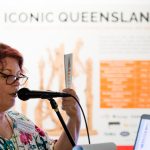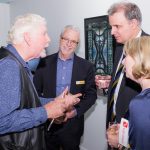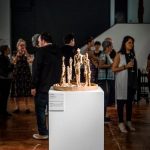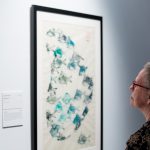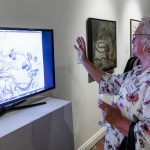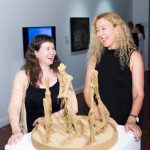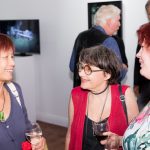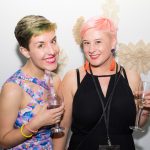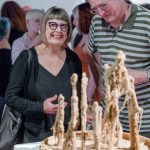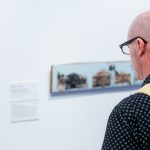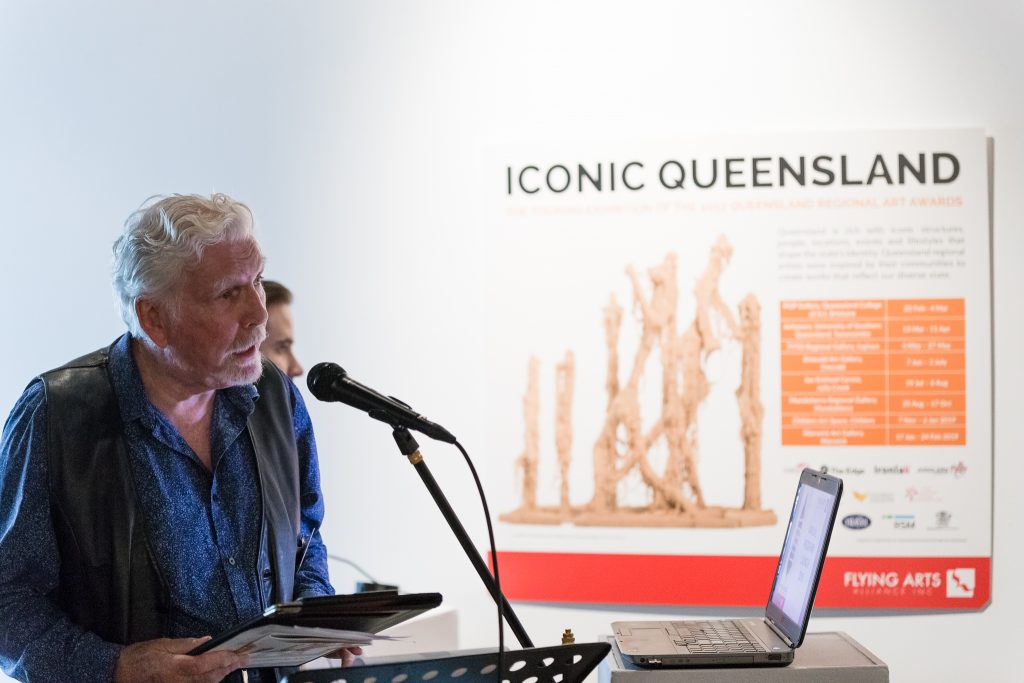 Flying Arts Alliance Chair Prof John O'Toole 2018 Program Launch Address
Welcome folks – welcome to Flying Arts' first event of the year: our program launch AND exhibition… actually two for the price of one… and as they are both free anyway, how about that for good value!
First I want to acknowledge gratefully that we have been ourselves made welcome on to this land, the country of the Jagera people, the traditional owners of this place, and both creators and guardians of its arts for untold ages.  Next, I want to acknowledge our VIP guests and Board members, who aren't quite so old. And not least, to invite you to join me in thanking our fellow artists-in-sound Jack Hickey and Caitlin Wall from the Aboriginal Centre for Performing Art, for their lovely musical introduction.
As we know, music is the food of love, so there will be more of it, after the speeches – with the real food and drink. And, you'll notice, there's stuff on the walls.
As I said, we're all here for two reasons: the main one is to launch our fantastic 2018 Program… which, as all you experienced launch junkies will be aware, is typically already off and running.
At the same time, we invite you to Not-the-launch of the 2017 Queensland Regional Art Awards exhibition… that's the stuff on the walls. To explain: up until now, we have always held the grand launch of this award in Brisbane – usually, after it has been on the road some time. As that's a bit odd for an award celebrating regional artists' achievements, this year we have decided to hold the State Launch in Toowoomba. Scheduling vagaries being what they are, ironically we have ended up starting the tour this year in Brisbane. So: think of it that we're just lucky to be getting a sneak preview.
Now, to launch Flying Arts 2018: I'd like to introduce our flight captain, CEO Kerryanne Farrer:
John:
Now it's my pleasant duty not just to acknowledge but to boast about all our wondrous supporters:
The hardworking and occasionally inspired Board of Flying Arts.
The even harder-working and just-as-inspired staff, volunteers and interns.
Our principal supporters

The Qld Government through Arts Queensland (Kathryn Rodney is with us)
Tim Fairfax Family Foundation (Sam and Bec)
University of Southern Queensland (especially those who have travelled tonight)

Queensland Regional Art Award Sponsors – especially Toll our Transport and Logistics Sponsor, and the Members of the Flying Arts 500 Club of generous donors, for supporting the Art for Life Major Award
The 2017 Awards prize winning and exhibiting Artists, including major award winner Jo St Baker, and especially the Awards' curator Henri van Noordenburg and his co-panellists Mike Mitchell and Sandra Conte.
The Flying Arts By Request Touring Team and Scheduled Program Artists and Facilitators
And also thanks to the QCA Gallery and Griffith University for the venue and all their support in setting up.
And I must belatedly mention those supporters who were not able to be with us tonight and sent their apologies:
Our Patron, the Governor of Queensland, Paul de Jersey and Mrs de Jersey
Our Cultural Patrons, Tim and Gina Fairfax
The Honourable Annastacia Palaszczuk MP, Premier and Minister for Trade
The Honourable Leeanne Enoch MP, Minister for the Arts
Kirsten Herring, Deputy Director-General of Arts Queensland and Rebecca Atkinson, Director of Policy and Programs.
Most of those luminaries will be at our proper Awards Launch in Toowoomba, so if you want to do some celebrity spotting you are all invited to that too, at 2.00 on St Patrick's Day, 17 March at USQ. If you can't get there, the Exhibition will be on show here until 4 March, Wed-Sun 10-4, Thurs – 12-8pm… so do bring your friends with their chequebooks – the works are for sale.
And it's Showbag night, so take our Flying Arts Ambassador's bag on your way out. This bag contains our 2018 programs, the Educator and Young Artist calendars, an exhibition catalogue and a copy of Art Enquirer (which is a publication coming out of a joint Flying Arts and IMA Artiz program) – please put these in the hand of an artist, educator or community arts worker, especially if they are from regional or remote Queensland. And for you there is also a gift from our People's Choice award sponsors Ironlak.
And please spread the word about us, in person and via social media – use #flyingarts, so we can like and share your posts!
Once more thank you to all our supporters and program partners, our donors and award partners (they are up there and in the catalogue) and all of you for coming out to our very first "official" program launch.
Now enjoy our light refreshments, take a drink, listen to the music again from Jack and Caitlin
… and head off for your sneak preview… except you don't have to sneak round – you can feast your eyes as long as you like.
Thank you for coming.
Flying Arts Alliance Executive Officer Kerryanne Farrer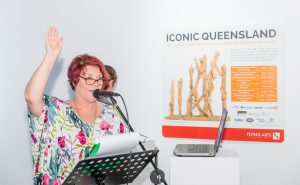 Thank you John.
Allow me to add my respectful acknowledgment of the traditional owners of the land on which we gather and elders past and present, and extend that acknowledgement to those form the land and seas we travel to and work on through our Flying Arts activities.
It's my great privilege to be in the pilot's seat of our little light "art" craft, Flying Arts Alliance. In terms of organisation size we are small to medium, but in terms of reputation in the visual arts sector in remote, rural and regional Queensland, Flying Arts is more akin to a Boeing 787 Dreamliner!
And how very exciting to see so many of our team, network and supporters here tonight!
We exist to connect with artists, educators and communities as you will see through our 2018 Program.
Allow me to navigate you through the seemingly complex guidebook that is our Program Brochure. We hope most of you may have received a copy in the post, don't panic, you will get at least one on your way out!
So what do we do? … well, a lot!
As we are a visual arts organisation, we have colour coded our program offerings so you can go directly to what is relevant to you, or someone you know.
Orange is for Artists and Artworkers (slide)
Workshops and webinars
Artist Consultations
Exhibition Development Program
Where to Next…? Mid career intensive
Yellow is for Young Artists
Artiz Innovation at the Edge
Artiz Street Art at USQ
Art Enquirer at the IMA
Green is for Teachers + Educators
Workshops and webinars
Connecting Art with Curriculum (now in Webinar series)
Artiz for Educators
Teale – Schools
Small Schools Fund
Visual Arts Workshops/Projects
Blue – Creative Communities
Visual Arts Workshops/Projects
Arts Business Workshops/Projects
Exhibition Support
Flying Arts RED – For Everyone
Exhibitions
Membership
Support Us
Resources
That is the Who we deliver to, and What we deliver.
How do we do this? We have 3 main streams of our Program
I will now ask the Program Lead from each area to introduce themselves to you, and to talk to briefly to their program and a selected highlight.  Over to you co-pilots!
Thanks Program Team.
And this is just the wing tip of what we do. In 2017, we held over 200 individual activities, for around 30,000 participants and attendees in 63 locations around the state.
How do we do this, you may ask? How do we cover so much ground, in a state that is 7 times the size of Victoria?
It's through our wider crew of Artists and Facilitators, both those from our 2018 Touring Team delivering our "by request" Visual Arts and Arts Business and Arts Management suite all over Queensland and those who are presenting as part of our Scheduled Program of Workshops, Webinars and Consultations. We are thrilled to have a selection of such talent, knowledge and experience in the room… Could I ask our artists and facilitators from this year's by request and scheduled program to raise your hand please… and this is only half of the team!
I would like to ask one of our "Frequent Flyers", artist and all round adventurous spirit, Scott Maxwell, to share a story from further afield.
Please welcome Scott….
—-
Thanks Scott, wish I was going with you next week!
I don't know about you, but the mere thought of a week-long workshop makes me want to make some art!
If you are feeling inspired by what you have heard and by the amazing work around you, allow me to reassure you our signature Queensland Regional Art Awards, for artists living in regional and remote Queensland is opening for entries very soon. This year's theme is Wanderlust and details will be coming soon through our newsletter and social media. Look out for the entry information in an art or community space near you, or on our website.
I'd like to give a shout out to the other Team Leads of Flying Arts Ground Control – Paul Thompson, our Operations and Membership Lead, the "Voice" of Flying Arts on the phone, and in the web TV studio! Kat Johnston, Marketing and Communications Lead, who gives the term "one-man band" a whole new twist as our "one-woman marcoms show!", Karen Plitt, our newest member of the team in the brand new Development Lead role.
I couldn't be more proud of the work that our small team achieves in any one year! Congratulations to everyone who has been part of weaving a great tapestry of visual arts activities and services that is the 2018 Flying Arts Program.
Together we strive to continue to encourage Queensland artist's to not only believe, but see, that dreams can become reality, that regardless of age, background or location, it is possible to sustain a lifelong interest or career in the arts.
Thank you!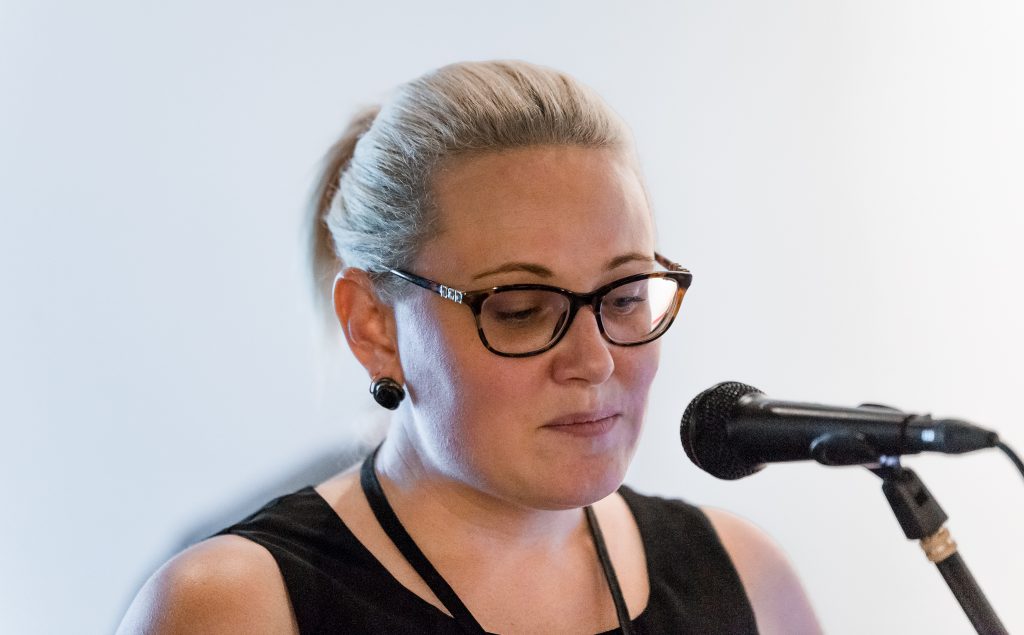 By Request Program Lead Madeleine Cook
I am thrilled to be joining the team in 2018, taking over from Jess, in the By Request Role. 
When I was being interviewed, Kerryanne explained to me that it was essentially the By Request role that has been at the heart of Flying Arts for the last 47 years.  I mean, what a phenomenal legacy for us all to be a part of!
The By Request position has evolved over the last few years to be a very customisable service, enabling local and remote locations to enjoy an even wider variety of visual arts related opportunities.  From creative projects and art workshops, to professional development lectures; The By Request role supports both creative communities and schools achieve their program goals in a cost effective and hassle-free way.
I just happened to step into the role at the perfect time, as we are currently trailing a brand new system for our Small Schools Fund. 
Much like the By Request program, the Small Schools Fund is now a very customisable structure, enabling tiny, tiny schools (of less than 50 pupils) to gain access to much needed resources and afford arts rich experiences in their classrooms.
We have already received over 25 enquiries and there is still a few more days left before the application dates close on Feb 28.  I am looking forward to going over the final submissions and reading all about their project proposals and ideas.  It's going to be one tough job for us to decide who amongst the group of applicants will receive a portion of the $20,000 available. 
Seeing the outcome of this type of outreach work will be absolutely amazing to witness and I feel confident in saying that this year's Small Schools Fund will make a massive impact on the lives of many remote kids'. 
Programs like this is exactly why Flying Arts has such an upstanding reputation, and is also why all of us here tonight believe in the good work that happens in this organization, every. single. day.
I feel lucky to be here.  Thank you.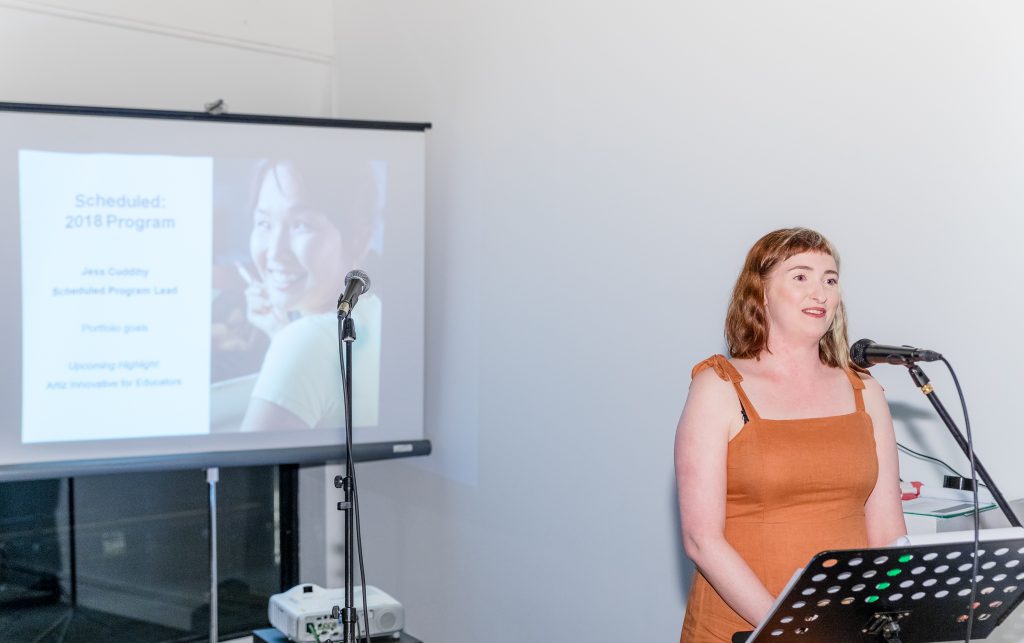 Scheduled Program Lead Jess Cuddihy
As the Scheduled Program Lead I look forward to being able to assist in the development of artists and educators across Queensland through our suite of scheduled workshops, webinars, consultations and intensives. From young artists, emerging, mid-career and established artists, to educators working in classroom or outside.
I am particularly excited about the launch of our new ArtizInnovative for educators that will be running alongside our young artist program that will allow teachers access to making facilities available at The Edge, State Library of Queensland, including professional development in new technologies such as lasercutting and 3D printing. This program was created due to overwhelming interest expressed from educators in 2017. This shows the responsive nature of programming at Flying Arts and also the level of support we receive through our sponsors and partners in being able to make these things happen.
We are also holding our mid-career intensive program, Where to Next…?  in collaboration with NAVA, in Toowoomba this year. We hope to keep expanding opportunities to hold our most popular programs in more regional areas. Watch this space!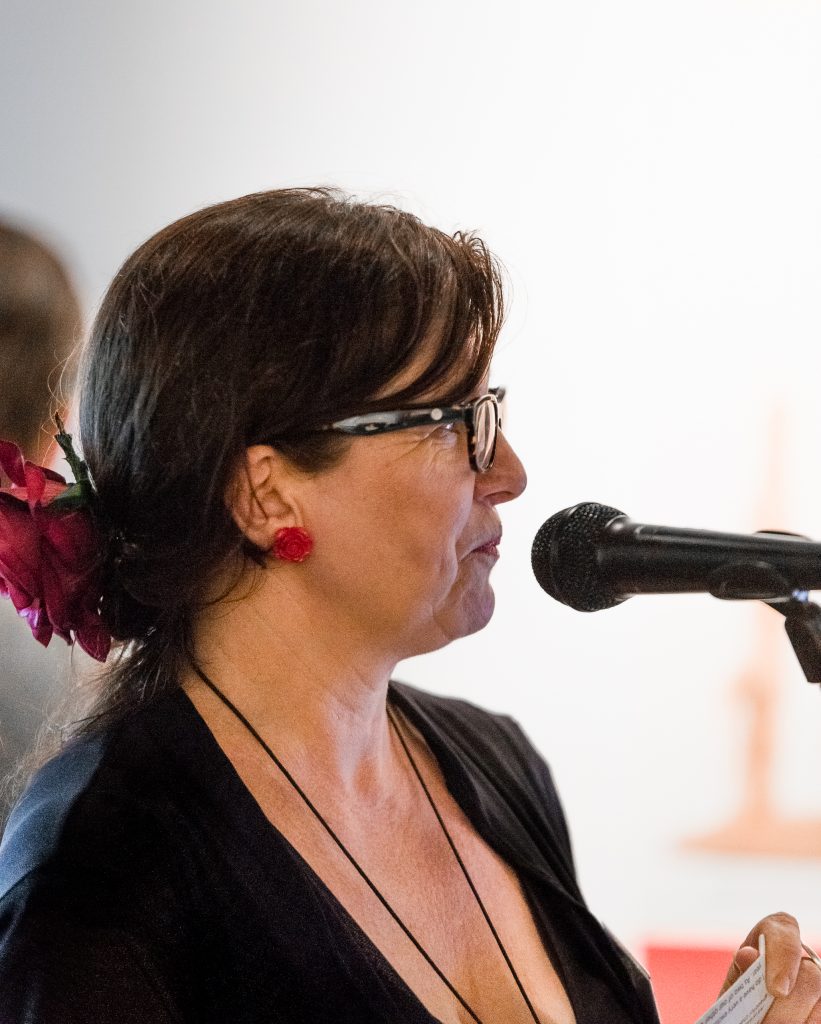 Exhibitions Lead Maya Carter-Malins
We have an exciting year ahead for Flying Arts Exhibitions.
Colours of Queensland, the exhibition of the 2016 Queensland Regional Art Awards draws to a close today – in Goondiwindi.
Iconic Queensland, the exhibition we are enjoying tonight, takes its place – it will visit 8 unique locations across Queensland in 2018.
 We have some of the winners and touring artists in our midst tonight, so please take the opportunity to congratulate them on their accomplishment if you have the chance.
 All artists featured in this show hail from regional Queensland, so we are grateful that many of them have joined us here for our program launch event.
I do have a very exciting announcement about our Exhibition program this year. As two of our other exhibitions draw towards the end of their tours – Reminiscence and Grounded – a brand new series of exhibitions takes their place.
Earlier this year we put the call out to our members for small-scale artworks. 16 members from across the state have been chosen to have their works featured at the Judith Wright Centre of Contemporary Arts in four seasonal exhibitions.
 These exhibitions show off the wealth of talent within the Flying Arts membership and brings their art to the forefront in the building that houses our Flying Arts office.
We hope you take the opportunity to see these exhibitions throughout the year – and if you do, stop by our office and say hi to us too!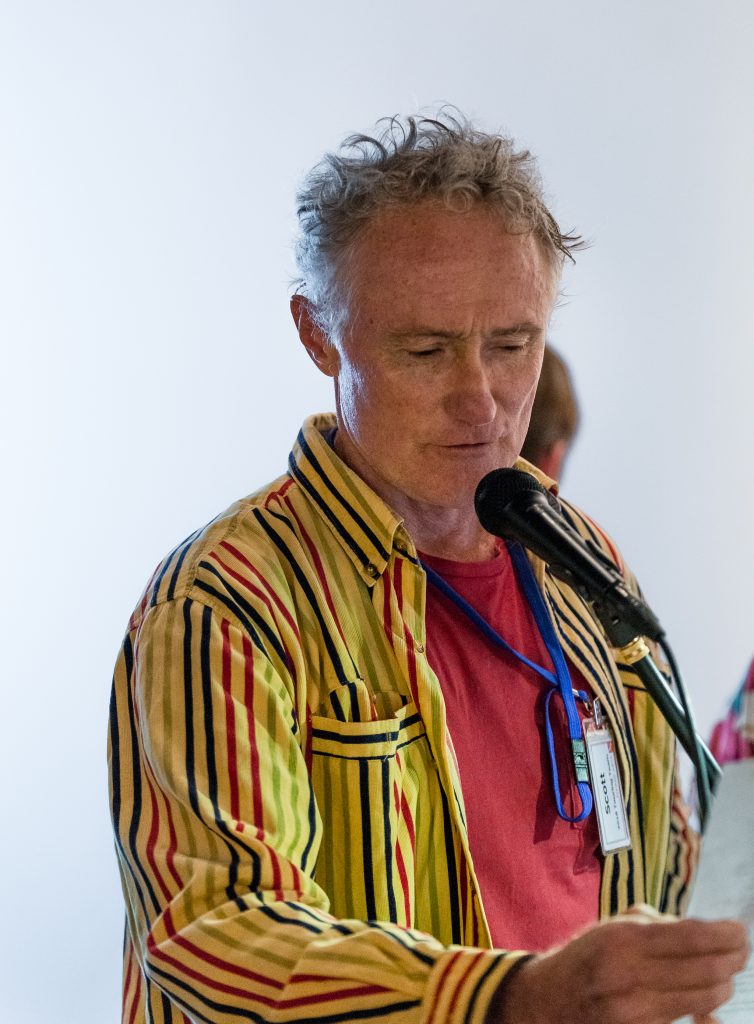 Scott Maxwell
GREETINGS ALL,
Nice to see old & new faces gathering around – we should do this more often. I suspect that most of you have your pet specialties when it comes to delivering art workshops. I cannot name my own forte as I am a bit of an all rounder… & I like it like that – mixing it up to suit the audience, wherever it is. I have been a touring artist for 8 years? and have been to very remote areas of Queensland delivering quite eclectic & tailored participatory events. Noccundra was memorable because it had a population of 3 (married couple with daughter) who owned the pub. HOWEVER, in the 5 days I was there it swelled to about 500… and they were all women, as it was a 'womens festival'. We created a large mosaic to be a permanent monument. Also helped facilitate a life drawing class and it was absolutely hilarious. One particular class that stands out in my mind (because it was very recent) was up at Charters Towers, thanks to Robyn Barrie & Towers Arts Incorporated. Now I want to paint a picture for you to imagine how I pulled it all together;
– 'Drawing with Passion' for 8.5 hours a day X 7 days in a row
– one core group with other fluctuating participants everyday
– averaging 20 people per day
– demographics ranged from 10 months to 83 years in age
– some students were current art teachers
– others were retired art teachers
– while some had never drawn anything before
– I will not even mention a certain 'clique' that permeated throughout the group
– averaging an exhausting 38* heat everyday
The spontaneity of the classes changed daily ~ it included a field trip into the rock scape in twilight hours, a life model, detailing several inanimate objects, having another group coming in and 'documenting our creative spaces' and a meeting with the Mayor at an art exhibition opening that culminated into a class concept design for public art. The class jelled well. The feedback that Flying Arts received was that I was able to push them out of their respective comfort zones & make it fun while instilling techniques & discipline. As a result of this workshop, they have invited me back through Flying Arts for another workshop next week for another whole week… and we will be doing something completely different – like constructing a mammoth steel sculpture to be their iconic symbol in establishing an annual arts festival. Just like to say, that through Flying Arts, I have meet some truly wonderful people, seen many crazy communities and have travelled through some of the most dramatic landscapes on earth… and all this keeps me quite connected to my own arts practice.