Brisbane artist member Megan Grinstead applied to be a featured artist to exhibit a collaboration between herself and a group of primary school students to whom she teaches afternoon art classes.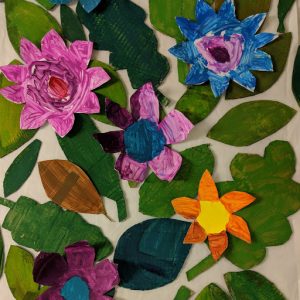 I was quite excited at the prospect of having the opportunity to exhibit some work that I have been working on for some time, and being able to include my Draw Big Art Group primary school students, in the whole process of creative collaboration. The idea of the exhibition is about the ephemeral nature of SHADE. SHADE – cast in Brisbane by our wonderful trees- many having their origin in other countries.
In curating works for this exhibition, I have had to be mindful of the restraints of the width and depth of the plinth, and the height of the perspex cover. With this in mind, I have included as many painted trees as I can, without crowding the space too much and making it too visually confusing.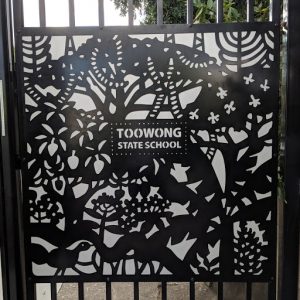 In my own practice, I am presently working on an installation about Native Bees and Pollination – a Fruit Chandelier. I am also working on designs that involve productive plants with lino and screen prints. I have just completed a custom designed laser cut metal pedestrian gate for a local school. As I mentioned earlier, I am teaching children art four afternoons a week, combining art and gardening. I also exhibit with Impress Printmakers Gallery and we have just been involved with Sydney Contemporary Art Fair.
There is also an up coming opportunity to exhibit printmaking in Wales next year- so currently I am working on this. I have also just become a Flying Arts touring team facilitator and have my first workshop coming up which I am quite excited about! Looking forward to being part of the Flying Arts community!
Megan's tree series will be on display at the Judith Wright Centre from 31 May – 23 August 2019 as part of the Seasonal Sittings of Tiny Art – Winter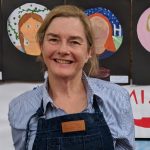 As an artist, Megan is interested in the economics of plants, the patterns and colours of plants and the communities that are drawn together with plants in many different ways. The stories surrounding plants. She uses natural history as a pathway to tell stories in a visual way. At present Megan works with groups of young children, guiding them through the use of many different mediums, with interesting information about the natural world as the underlying subject. They have worked collaboratively on the painted trees in this exhibition, discussing the natural history of Brisbane, the importance of an ephemeral value such as shade, colours, shape ,form and most importantly, drawing skills! Megan's idea is to be able to facilitate and form connections to local natural history and also to teach the skills, confidence, critical thinking ability, sound decision making to work independently as young artists. Being an artist is a skill to share and enjoy with others!