Want to receive Flying Arts updates in your inbox each month? Sign up to our eNewsletters
---
How do you celebrate? Is it a party, a big bash or an elegant affair? Serene, riotous or filled with gratitude, tradition, ceremony or ritual? We've got a lot to celebrate this month at Flying Arts, especially because it's our final month of entries for the 2021 Queensland Regional Art Awards (QRAA)!

Show us how you celebrate by responding to the theme 'Paint the Town' to win one of 11 prizes within the $42,000 prize pool. You could even win the prestigious 'Art for Life' major award valued at over $21,000!

At the end of June, we also celebrated the regional opening of Decadence, the touring exhibition of the 2020 QRAA in Charleville. Thank you to Murweh Shire Council, our QRAA touring partner Holding Redlich and our award-winning artists, award judges and special guests who made the weekend a success. Keep an eye out for a wrap-up on our website soon.
Speaking of thank yous, Flying Arts would like to also extend our heartfelt thanks to each generous donor who supported our End of Financial Year Fundraiser. Thanks to your support, we have been able to raise over $20,000 year to date, continue our vision of transforming lives through art. Thank you!
---
Welcome to our First Nations Engagement Coordinator, Nathaniel Andrew!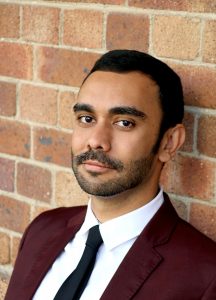 We're excited to welcome Nathaniel Andrew, a proud Yorta Yorta, Wurundjeri, Ngarrindjeri, Wadi Wadi, Wiradjuri and South Sea Islander man, who has joined our Regional Arts Fund team to promote and support First Nations arts activity throughout Queensland. This role has been funded by the RAF Boost Program.

Nathaniel is a musician, performer and music educator who has performed around the world at thousands of events and shared the stage with acclaimed artists such as Jasmine Sullivan, The O'Jays, Anita Baker, John Farnham, Jimmy Barnes and Bootsy Collins.

As an educator, Nathaniel has taught periodically at the Central Queensland University, University of Cincinnati, University of Tasmania and was previously Head of Music at the Aboriginal Centre for the Performing Arts where he was announced as the 2016 VET Trainer of the Year at the Queensland Training Awards.
We recognise the importance of this identified position in Flying Arts role to support the aspirations of Aboriginal and Torres Strait people and communities, particularly as Australia celebrates NAIDOC this week, running until 11 July.

Welcome Nathaniel, we're thrilled to have you on board!
---
Program Highlights
Plaster bandage is an affordable art material with a multitude of uses! Gain first-hand experience in creating forms from plaster bandage with professional artist Simone Eisler and learn how to use it in classrooms or out in the landscape. Full day workshop in Brisbane on Sunday 25 July. Grab your ticket
Would you like to develop a long term and sustainable plan for your career? Join us for the next creative intensive 21 – 22 August to create your career map and identify strategies to reach your goals. This program is designed for artists and arts workers with around a decade of industry experience. Secure your spot
---
Professional Development Opportunities (view all)
For Artists and Artsworkers (view all)

For Teachers and Educators (view all)

---

Art Innovation: Sign up now for the September program!
29 Sep – 01 Oct, 9:00 am – 5:00 pm, State Library, The Edge
Participants will experiment with the latest technologies at The Edge exploring contemporary approaches to art making and digital media such as laser cutting, 3D printing, electronics and more! Participants will get the opportunity to make objects to take home, take part in a make-a-thon and be featured in a public exhibition project involving communities from around the State.
---

---

Revitalise your Arts Career with Where to Next…? Business Intensive
21 – 22 Aug, 9:00 am – 5:00 pm, TAFE Queensland South Bank Campus
Maybe you've won a few arts prizes, had a solo exhibition or perhaps secured a job in your chosen arts field, but now you're wondering "where to next?" Avoid the mid-career slump with our popular business intensive designed to help you examine your goals and make a plan to succeed in the rest of your career.
---
Regional Arts Fund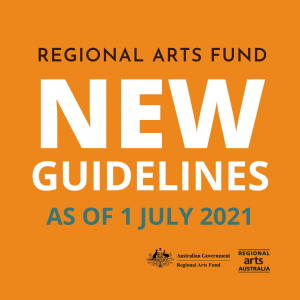 On behalf of the Australian Government, Regional Arts Australia has introduced updated RAF Guidelines for Project Grants and Quick Response Grants, effective 1 July 2021.

These new Guidelines will standardise the administration of RAF nationally, in response to feedback across the regional arts sector.

These Guidelines will simplify the accessibility of RAF applications, including clearer assessment criteria, updated grant stream definitions and increased frequency of RAF Quick Response funding rounds.
Learn more
---
Quick Response Grants and Project Grants now open
July 2021 round for Quick Response Grants are now open until 31 July. Under the new Guidelines, Quick Response are now administered as a competitive round. Learn more

For projects commencing on or after: a minimum of four weeks after application is received
Amount: Up to $3,000 for individuals and $5,000 for organisations
Opens: 9:00 am 1 July 2021
Closes: 5:00 pm 31 July 2021

APPLY HERE

Project Grants provide major funding for high-quality arts projects benefitting regional or remote artists, arts workers, audiences and communities.

For projects commencing on or after: 1 January 2022.
Amount: Up to $30,000
Opens: 9:00 am 5 July 2021
Closes: 5:00 pm 16 August 2021

APPLY HERE
The Regional Arts Fund (RAF) is an Australian Government program designed to benefit regional and remote arts practitioners, arts workers, audiences and communities. The fund is provided through Regional Arts Australia and is administered in Queensland by Flying Arts Alliance.
---

Last Month for Early Bird Entries: Queensland Regional Art Awards
Last month to enter Queensland Regional Art Awards
Take your art career to the next level and be recognised among the top artists in the state by entering the Queensland Regional Art Awards. Final entries close 5:00 pm, 23 July.
---
For Schools and Communities
Case Study: Animation in Gladstone
Early last month By Request Facilitators, Sue Loveday and Emma Gardner travelled to Central Queensland and delivered a suite of stop motion animation workshops for Bororen State School and Miriam Vale State School students. These wonderful creations will form part of the Wrapt In Mugul outdoor exhibition, which opens in the region this Saturday 10 July.
Do you want to bring an artist to visit your school or community? Ask us about how we can organise bespoke workshops anywhere in the state. Enquire Now
---
Charleville pictures their Perfect New World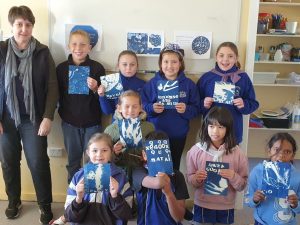 Award-winning artists LeAnne Vincent and Libby Derham travelled out to Charleville to teach new visual arts skills with students at Charleville State High and Charleville State School as part of Our Perfect New World Project, a new initiative, designed to encourage young people to engage in the arts in regional Queensland.

You can check out the amazing watercolour and cyanotype artworks alongside the Decadence touring exhibition at Mulga Lands Art Gallery.
---
Exhibitions on the Road
---
Need insurance for your project or practice?
Get tailored General Liability and Personal Accident Insurance Package with Flying Arts Accredited Membership. We also offer Standard Membership with full range of benefits including rebate vouchers, discount vouchers, and ability to submit members news. Learn More